Popular Batman cards
1966 Black Bat #1 - The Batman
One of the earliest Batman cards made released as part of the 1966 Black Bat release.
Year

1966

Set

Topps, A&BC, O-Pee-Chee Black Bat

Number

1
The 1966 Black Bat set was one of the first true trading card collector sets produced for what had by then become a popular graphic novel and TV series.
This iconic card is number one in that set.
There are a number of variants available as many sets were licensed to international companies. As a result there are slight variations and different print marks on these individual cards. I will explore this further in future blog posts about the 1966 Batman cards.
The variations of this card include:
Topps card produced for the USA with an orange colored back
O-Pee-Chee card produced for Canada with an orange colored back
A&BC card produced for the UK with a pink colored back
A&BC card produced for the UK for the fan club series which is the same as the standard A&BC card however it contains an advertisement for the fan club in a panel on the back
All cards feature the same image on the front however some have slight variations to the back.
This card shows Batman becoming part of mainstream card collecting by flying through the air toward the viewer. As with all vintage cards check for damage due to age and poor centering.
The #1 Black Bat card is sometimes referred to as Batman's rookie card by sports collectors.
The 1966 Black Bat #1 card can be bought for a few to many hundreds of dollars depending on condition. This is certainly a card that will stand out in your collection - particularly if you are lucky enough to purchase a sharp, well centered copy.
Check out the 66 Black Bat cards for sale below see cards available to buy on eBay right now.
Best of luck adding this beauty to your collection! Happy collecting.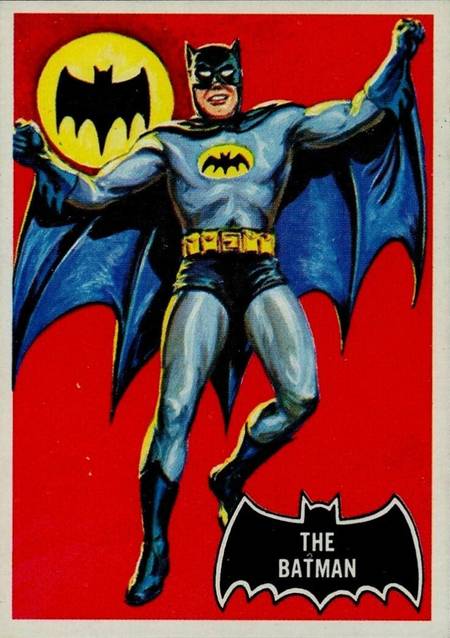 1966 Black Bat #1 - The Batman for sale on eBay now
This website is user supported. Clicking some links and making a purchase may result in the site earning a commission. Affiliations include but are not limited to eBay. This in no way affects editorial content.